What is an Au Pair?
You've probably heard people talk about au pairs before. You may have even seen them at the playground where you take your kids, or at your children's school, even though you didn't realize they were au pairs.
So what exactly is an au pair? In the simplest of terms, it's someone from another country who lives in your home and provides childcare in exchange for the cultural experience of living with an American family. Au pairs are:
18-26 year-old females
High school graduates or equivalent, and English speaking (most as a second language)
Fully insured (medical, travel, personal liability and accidental death coverage)
Willing to make a 12-month family participation and child care commitment and legally authorized to live in the USA (issued a J-1 Visa)
Required to attend the EurAupair Au Pair Workshop upon arrival in the United States. Workshop includes instruction on cross cultural topics, insights into American lifestyles, basic child safety and development, and assists the au pair in adjusting to her new home, family, and culture.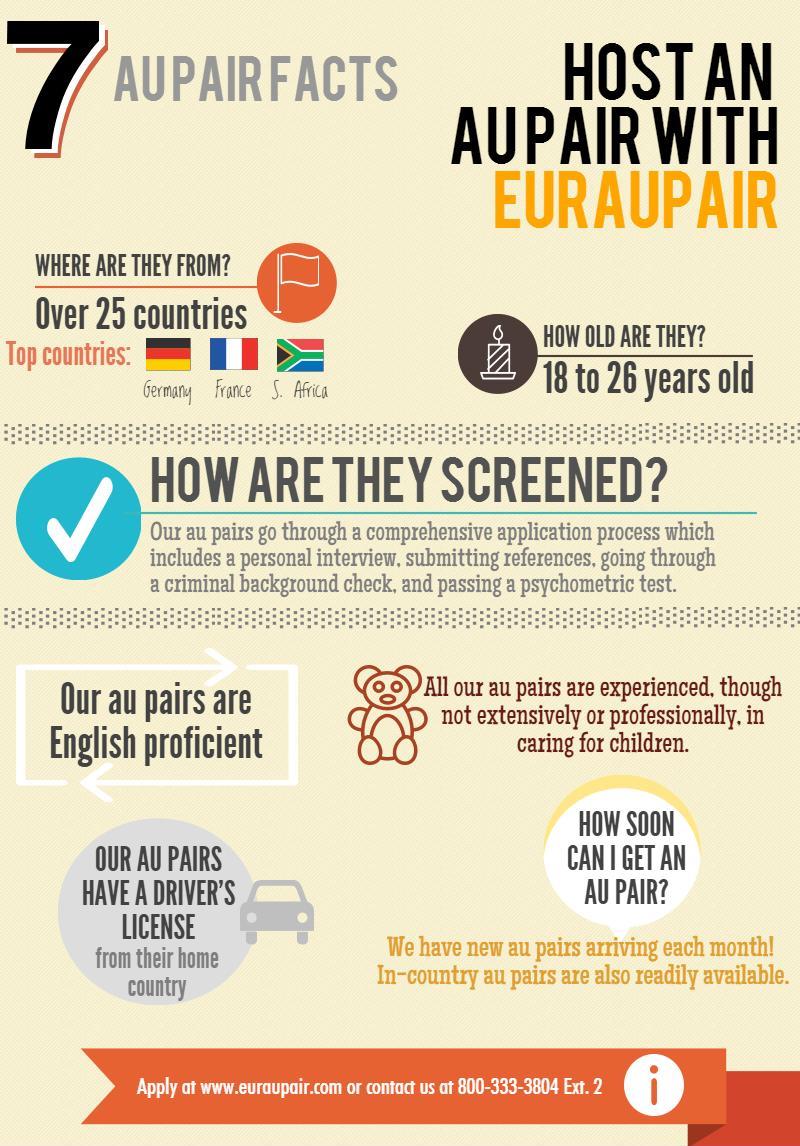 How Does an Au Pair Differ From a Nanny?
Now that you know what an au pair does, your next questions might be, "What is an au pair vs a nanny?" and "Do they do the same job?" There are a few differences between the two.
The most obvious one that sets an au pair apart from a nanny is the international aspect. A nanny can hail from anywhere, but an au pair comes from abroad with the express purpose of providing in-home childcare. Some nannies live in the house and some don't, but au pairs live with their hosts as part of the cultural exchange.
Another difference between nannies and au pairs can be age. Though some nannies certainly fall within the au pair age range, you won't find au pairs over a certain age.
Yet, in many ways, nannies and au pairs are quite similar. They care deeply for the children they watch over and they become like part of the family themselves.
Learn more about these differences in our blog article.
What Is an Au Pair Expected to Do?
An au pair quickly turns into a key cog in the family unit they join. They provide daily care for the kids in the house. Oftentimes parents are looking for a child care option that allows them more flexibility than day care. They want their kids to be able to go to the library, museums, playgrounds and other fun and educational destinations while they're at work, while receiving the sort of one-on-one attention that's so valuable for growing minds.
Au pairs provide all this and more. They are generally expected to care for the kids when the parents are not home, which could include:
Taking children to sports practices
Ferrying them to playdates
Exploring a nearby city with them

 
What Does an Au Pair Do to Join EurAupair's Program?
Our complete screening ensures our au pairs are:
Experienced, though not extensively or professionally, in caring for children (although some have more experience than others - see EurAupair Au Pair Par Experience program)
Responsible young adults of good character. All have had references verified, have passed a criminal background check (or its equivalent) and a psychometric evaluation*
In good health (medical certificate required)
Available with driver's license (family is responsible for auto insurance, if necessary)
* Experts in the field of psychometric evaluation believe that no test can
accurately predict the future behavior or level of functioning of any individual.

View some available au pairs now!