What is an Au Pair?
You've probably heard people talk about au pairs before. You may have even seen them at the playground where you take your kids, or at your children's school, even though you didn't realize they were au pairs.
Au Pairs Defined
So what's an au pair? In the simplest terms, au pairs are caretakers from another country who live in your home and provide child care in exchange for the cultural experience of living with an American family.
Au pairs are an excellent alternative to traditional daycare, providing your children with dedicated care like that of a family member. Au pairs bring additional benefits nannies and other caretaking arrangements cannot — including broadening your children's cultural horizon and exposing them to the world's extensive diversity.
While there are few technicalities defining an au pair, generally au pairs are:
High-school graduates or equivalent.
Proficient English speakers, though mostly as a second language.
Fully insured, including medical, travel, personal liability, and accidental death coverage.
Committed to a minimum of 12 months of live-in child care with an American host family.
Legally authorized to live in the United States with a J-1 Visa.
Our au pairs are also required to attend the EurAupair Au Pair Workshop upon arrival in the United States. The Workshop includes instruction on cross-cultural topics, insights into American lifestyles, basic child safety, and developmental education, and other relevant guidance. Plus, it assists the au pair in adjusting to her new home, family, and culture.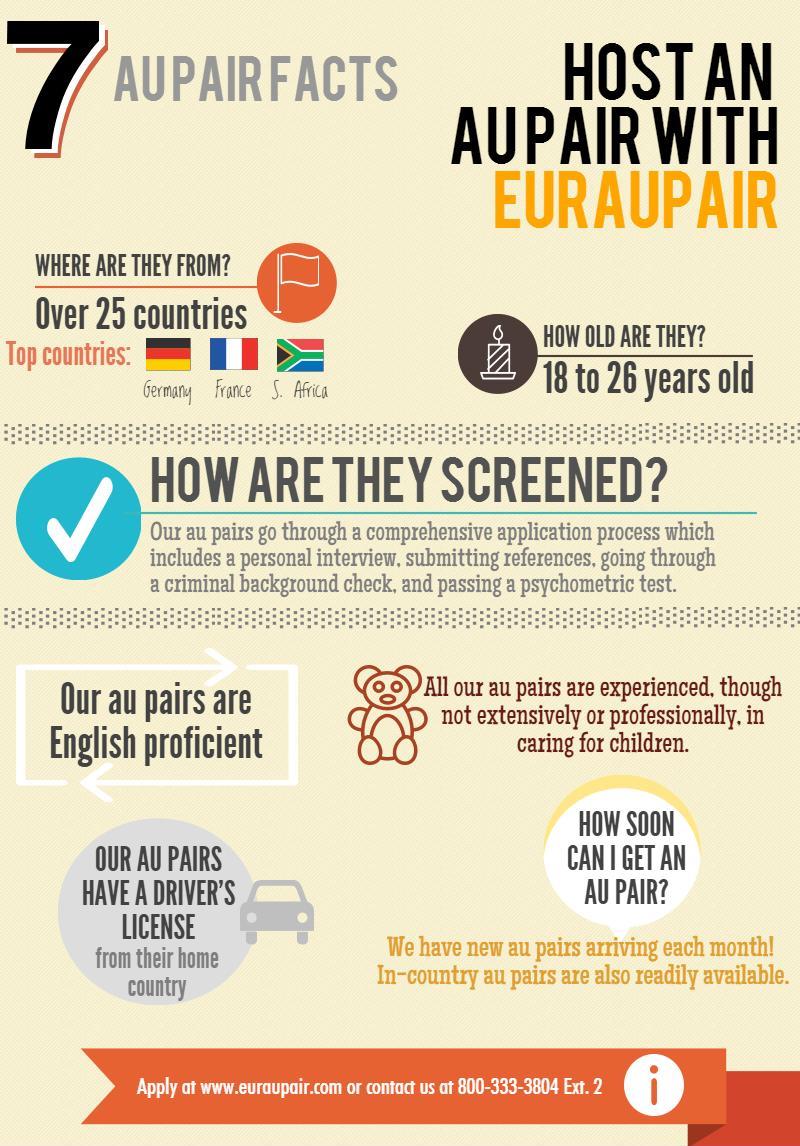 How Does an Au Pair Differ From a Nanny?
Au pairs, by definition, differ from any other form of child care. While commonly compared to nannies, there are several important differences between the two.
1. Cultural Exchange
The most obvious advantage of having an au pair in your family's life is organic exposure to a different culture.
In our increasingly connected world, children immersed in cross-cultural awareness have a distinct advantage as they grow and mature. Children raised with au pairs have opportunities to nurture lifelong skills like empathy, curiosity and open-mindedness. These skills take root during formative years and remain valuable into adulthood.
While nannies may come from anywhere, au pairs come from abroad for the purpose of providing in-home child care with a cultural-exchange emphasis. While some nannies live in the home, many nannies do not set up live-in arrangements with families and cannot provide the same level of organic cultural exchange.
2. Age-Related Advantages
Au pairs are generally younger and between the ages of 18 and 26. Your children will likely look up to their au pair as a "cool" older sibling, especially given their international status.
Your au pair's age also assures they can meet the physical demands of child care. Do your children want to run obstacle courses around the backyard? Spend hours in the swimming pool? Go on nature hikes at a local state park? Need to be picked up and carried around? Au pairs can keep up with the natural energy of little children — and then some.
3. Scheduling Flexibility
Nannies may charge more for night and weekend availability, plus any other off-duty caretaking. Likewise, daycares maintain set hours of operation and may not care for your child when they're sick. You and your au pair, however, co-create a schedule tailored to your family's needs. That includes nights and weekends, plus gives you peace of mind during sick days or unexpected emergencies.
Ultimately, au pairs care deeply for your children and become an integral part of your family itself. Learn more about these differences between au pairs and nannies, as well as au pair advantages over daycare.
What Is an Au Pair Expected to Do?
Au pair duties will vary based on your family's lifestyle and preferences. The most common household activities au pairs assist with include:
Children's morning and nighttime routines.
Light meal prep and snack-making. Au pairs are especially encouraged to introduce cuisine from their home country.
Driving children to extra-curricular activities.
Taking care of the children's laundry.
Bathing children.
Assisting with homework and school projects.
Accompanying children during out-of-home activities, such as museum visits, trips to the park or movie theater visits
General companionship and supervision via playtime, reading, crafting, hobbies and other healthy, age-appropriate developmental activities.
An au pair quickly turns into a key cog in the family unit. Their primary purpose is to provide daily care for children in the home. Oftentimes, parents are looking for a child care option allowing them more flexibility than daycare. They want their children to be able to go to the library, museums, playgrounds and other fun, educational destinations during the day while receiving the sort of one-on-one attention so valuable for growing minds.
Au pairs provide all this — and more.
What Does an Au Pair Do to Join EurAupair's Program?
Our thorough, multi-staged screening ensures our au pairs are:
Experienced, though not extensively or professionally, in caring for children. Families looking for candidates with advanced child care experience or degrees in early childhood education can find options via the EurAupair Au Pair Par Experience Program.
Responsible young adults of good character. All candidates have had references verified and have passed a criminal background check or its equivalent and psychometric evaluation.*
In good health. Each candidate is required to have a medical certificate.
Available with a valid driver's license. Families are responsible for auto insurance, if necessary.
* Experts in the field of psychometric evaluation believe that no test can accurately predict the future behavior or level of functioning of any individual.
Where Do EurAupair's Au Pairs Come From?
Our au pairs come from all over the world. We intentionally offer a diverse array of talented caregivers who love children and seek the cultural experience of living in the United States.
EurAupair receives the most candidates from the following countries:
Germany
France
Turkey
South Africa
Mexico
Brazil
Venezuela
Taiwan
Denmark
Colombia
We place au pairs nationwide, with a particular presence on the U.S. coasts, including:
New York City, New York
New Jersey
Seattle, Washington
California
As a Department of State-certified and nonprofit au pair matching service, EurAupair is able to place au pair candidates from over the world with families across the United States. See a full list of where our au pairs come from for yourself.
Discover the Au Pair Difference
When it comes to child care for your children, au pairs bring unique and valuable advantages. Check out the qualified au pair candidates currently available for family matching in U.S. homes.
* Experts in the field of psychometric evaluation believe that no test can
accurately predict the future behavior or level of functioning of any individual.

View some available au pairs now!