Looking for an Au Pair in McLean, Virginia?
With over 30 years of experience, EurAupair was one of the first au pair programs to become designated by the U. S. Department of State to legally sponsor au pairs to come to the United States, and has placed tens of thousands of au pairs across the country including in the McLean area.
EurAupair is an affordable child care option, making it a real value for such flexible, loving, in-home care. And, unlike other forms of child care, the fee is for children of all ages, and per family - not per child.
Local Support from EurAupair Community Counselors
Following the receipt of your application form, a local Community Counselor from the McLean area will be assigned to your family. The Community Counselor is available to answer any questions and provide assistance to both you and your au pair throughout your year together.
"I started out as an au pair in 2007 and a few years later I decided I wanted to become a Community Counselor so I could help the families and au pairs have as great of an experience as I did. I have now been a Community Counselor for three years and I really enjoy what I do." from Community Counselor Powaran (Eve) Khanthawichai.
Some examples of monthly au pair meetings in the area include: During the summer months we go hiking or have picnics, and like to celebrate American culturalal events for instance going to a haunted house on Halloween. We are also lucky to be in the D.C. area where there is so much to see and do downtown. Sometimes we take trips to see the Capitol Building or to see the Supreme Court.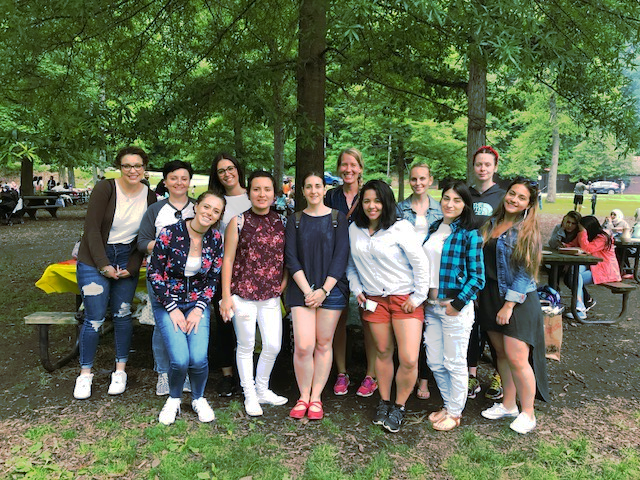 Education for your Au Pair
U.S. government regulations require that au pairs be provided with opportunities for cultural and educational enrichment. Au pairs must complete 6 units of academic coursework at an accredited, post-secondary institution.
Here are some institutions in the area your au pair may consider:
Local Activities for your Au Pair and your Child(ren)
Transportation Information
Useful Information for your Au Pair
Testimonial from a Family/Au Pair in the Area
My Au Pair year has started last year in November and since then I live in Virginia with my host family. During my first year I made a lot of experiences and I am grateful that my dream to work as an au pair has come true. First of all the organization EurAupair was very helpful, before I even came to the US and still is. If I have any questions, I can contact the organization or my counselor and they give me always an helpful respond or suggestion. The au pair meetings are varied, helpful and fun. The workshop in New York was a great experience, because beside the class, where we talked about first aid care, milestones..., we got offered a sightseeing tour.

Also I am very happy with my host family. They are caring and include me in family activities. I enjoy spending time with them and will miss them for sure, when my au pair year is over, because they have become my second family during this year. Beside my work and life in my host family, I had the chance to meet and became friends with people from other countries and could learn something from their culture. Also I enjoyed to visit a college class, which is provided by the host families. I could learn a lot and it was an interesting class.

Another part of being an au pair, which I really like, is the possibility to improve the language skills and getting to know another culture. I was lucky to see different parts of the US and it amazes me how different the states are. Of course it is not always easy to be far away from home and not everyday is easy, but in all I have never regret my decision to be an au pair and I enjoy this amazing experience.

From Nina Wolfgarten from Germany in Arlington, VA
Looking for an Au Pair in Alexandria, Fairfax Station, Gainesville, Leesburg, Norfolk, Richmond, Virginia Beach or another state ?