Spot Light on Community Counselor Kelley Land
Our EurAupair Community Counselors – CCs – are our most valuable asset. Day in and day out they provide encouragement, support and mentoring to their au pairs and host families. Counselor, advocate, mentor, and friend are just some of the roles they fill. They are our local marketing experts, too. Our program relies heavily on them for ensuring our au pairs and host families have a successful and rewarding year together. We are very fortunate to have hundreds of wonderful Community Counselors on our team. In this edition, we are pleased to share one of our finest Community Counselors with you.
Kelley Land has been a Community Counselor in the Washington, D.C. area since 2010. She and her partner Jerome Alfred have been hosting au pairs since 2008 with EurAupair, shortly after the arrival of their twins. Kelley loves being a host mom. When speaking about her experience she says: "We have been so, so lucky to welcome the absolute best au pairs in the world to love our most awesome kids." Two years into hosting, EurAupair contacted Kelley and asked her if she would consider sharing her enthusiasm and love for her au pairs to a few more, as their Community Counselor? Kelley jumped at the opportunity and the rest is history, so to speak. She currently serves, not just a CC, but as a friend to 12 au pairs. She successfully balances the line of being an advocate to both her au pairs and her host families. A feat that is not as easy as it sounds, but Kelley is flawless at the skill.
Kelley is also extremely skillful at sharing the EurAupair program with others, particularly within the Moms of Multiples community she is also very active in. Many families have joined EurAupair, because Kelley helped guide them into finding the right child care fit for their family. Kelley has found that families looking for child care want personal recommendations. Being able to speak to them about her rewarding, first hand experiences being a host mom has been the key. She speaks about the program and how it has worked for her family, she doesn't try to sell them, merely inform, so they can determine if having an au pair is a fit for them. EurAupair is extremely lucky to have Kelley Land, as not only a host mom and Community Counselor, but as our MVP!
By Mid-Atlantic Area Coordinator Holly Brown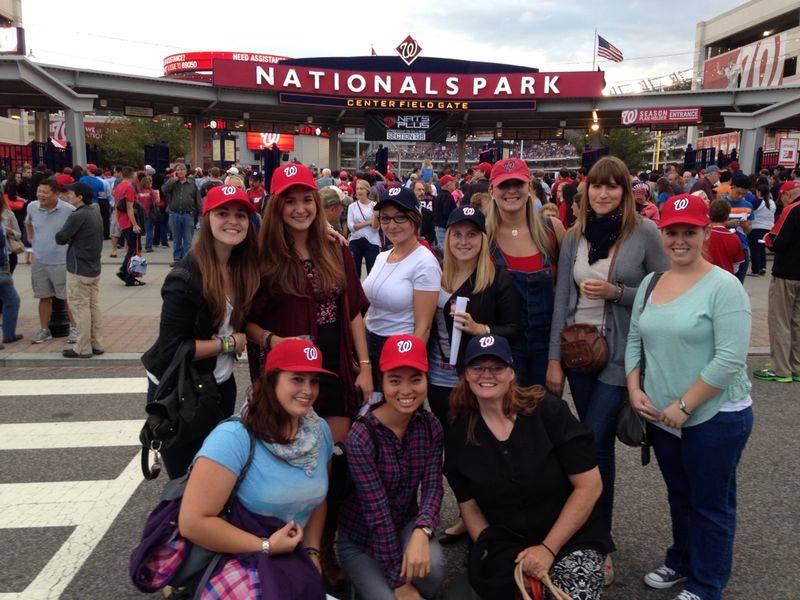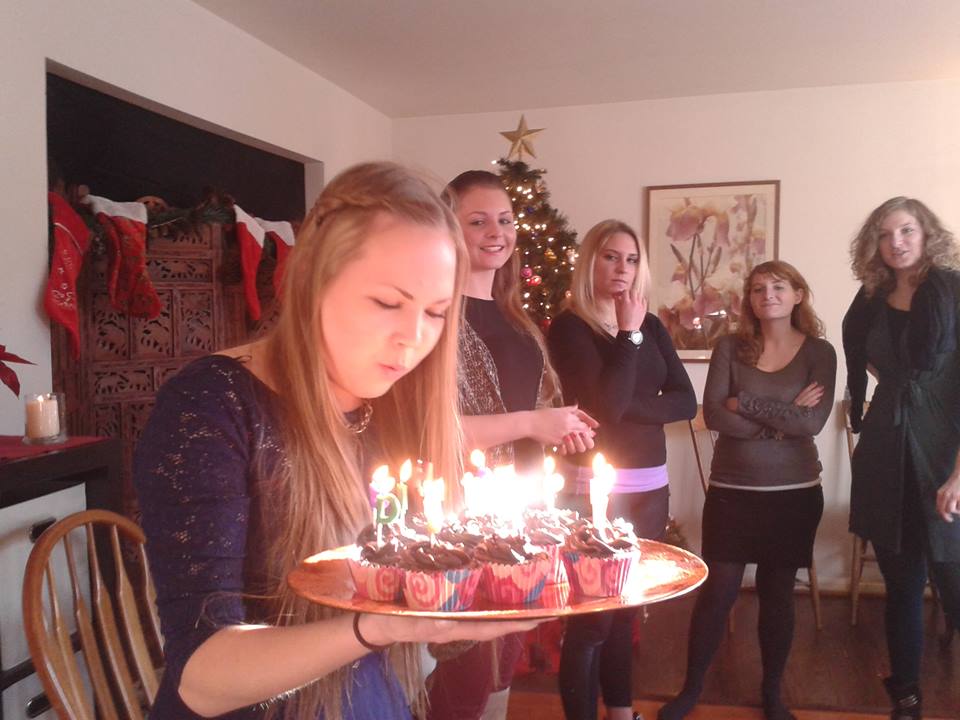 Kelley and her au pairs at a Baseball game (left) and celebrating an au pair's birthday during their Christmas potluck (right)
Read Kelley's testimonial here!