EurAupair Au Pair Awarded IAPA Au Pair of the Year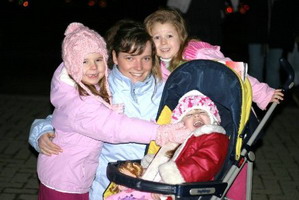 Every year thousands of young people from all over the world embark on a special journey by becoming au pairs. Leaving behind the familiarity of their homeland for as long as one year, au pairs travel to distant countries, where they are welcomed into another culture as a part of their host family.
To reward au pairs for the wonderful job they do caring for children, the "IAPA Au Pair of the Year" gives au pairs the recognition and credit they deserve.
What does it mean to be the Au Pair of the Year? Well, for Emilie Terryn, a 21 year old from France living with her Host Family in Chicago, Illinois it meant a whirlwind of excitement, pride, honor and traveling the world to the country of Latvia to conclude the dream!
Emilie was selected as the 2007 IAPA (International Au Pair Association) Best Au Pair of the year. As the winner of this prestigious award Emilie and EurAupair can be proud of the fact that she was the one to be chosen from a large number of au pairs belonging to IAPA's 143 members located in 38 countries around the world.
Emilie was nominated by her family, Kati and George and their children, Lisa, 5, Leia, 4, and Ava, 2. Kati wrote EurAupair a letter filled with Emilie's accomplishments and good deeds. She jokes about how Emilie introduced vegetables to the family, but it was Kati's description of the love their family has for Emilie that won our hearts.
Read Emilie's Host Family's Story
Before Emilie won the award, she, too, had to write an essay about her experiences of being an au pair.
Read French Au Pair Emilie's Story