Things to Do With Your Toddler in Los Angeles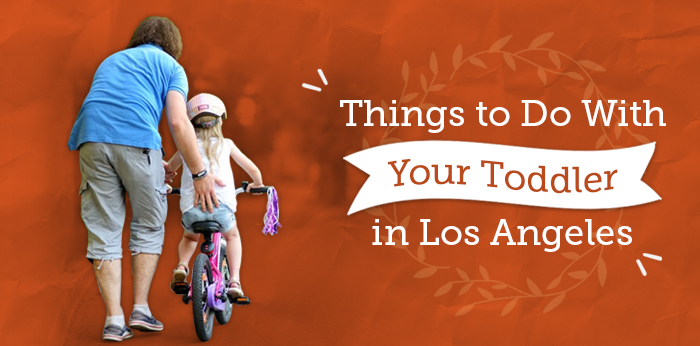 The City of Los Angeles, California is a sprawling metro area that boasts activities for everyone. The second-largest city in the U.S., LA has everything — beaches, parks, museums, amusement parks and plenty of activities for kids of all ages. If you have an energetic and curious little one, Los Angeles has all kinds of toddler-friendly activities that will be perfect.
Whether you live in the city or surrounding areas or you're just visiting, be sure to bookmark our list of some of the best things to do with toddlers in Los Angeles.
Throughout this article, we'll cover everything you'll want to know:
Griffith Park
Griffith Park is full of activities for children and adults of all ages. It's home to the Hollywood Sign and the Griffith Observatory, plus a sprawling park and network of nature trails. For the little ones, take advantage of one of its many fun attractions.
Take your toddler on their first horse ride with Griffith Park Pony Rides. On the Pony-Go-Round, your child will be securely strapped onto a pony that goes around a fixed carousel system, ensuring a smooth and safe ride. Once they get comfortable, they can graduate to the Slow Ponies, which walk at a steady, relaxed pace around an arena track. You can also opt for a wagon ride, and you can all ride together in a covered wagon driven by the Pony Rides staff. The wagon makes its way around the arena.
Griffith Park also has a classic, historic merry-go-round, which runs on weekends throughout the year and every day during the summer months. If your toddler loves trains, you're in luck — Griffith Park is home to two different trains, a large locomotive and a smaller train at the Travel Town Museum.
Location: 4730 Crystal Springs Dr., Los Angeles
Cost: Free for most activities; $5 pony rides
Travel Town Museum
What toddler doesn't love a choo-choo train? Travel Town is a railway museum located within Griffith Park. Many actual historical train engines and cars are on display to explore inside and out. You can even book a train car to host your toddler's next birthday party in. Besides the displays, a working train offers visitors rides. Hop on for a ride around the grounds, and stop into the gift shop, which has a Thomas the Train toy set that your toddler can play with to their heart's content.
Location: 5200 Zoo Dr., Los Angeles
Cost: Free for the museum, train rides free for children under 18 months, $3 for children, $3.50 for adults
Los Angeles Zoo & Botanical Gardens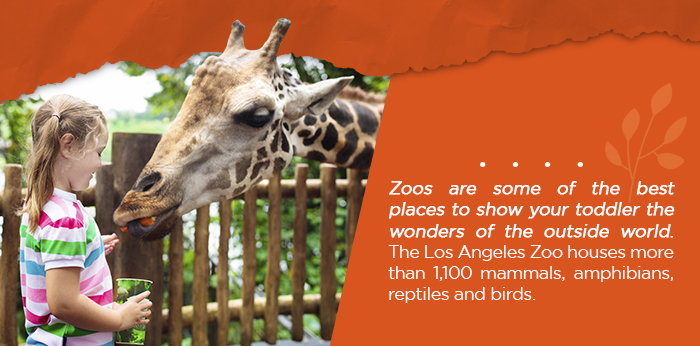 Zoos are some of the best places to show your toddler the wonders of the outside world. The Los Angeles Zoo houses more than 1,100 mammals, amphibians, reptiles and birds. Educational shows occur daily. Learn about bird behavior with the ever-popular World of Birds show, and see how elephants are kept happy during the Elephant Care Demonstration.
If your toddler likes to get up close and personal with the animals, visit Muriel's Ranch, which is home to dozens of toddler-friendly Nigerian Dwarf goats. These sweet domestic animals are calm, friendly and curious, and you and your child can brush and groom them. At the Flamingo Mingle, visitors can feed these cheeky birds, and if your timing is right, you can help feed giraffes — and peek at their adorable babies — at the giraffe exhibit.
Your toddler can roam free at the Neil Papiano Play Park, which was recently updated with more shade and new play structures. It also has misters on hot days and a large picnic area. Or hop on the back of one of the 64 hand-carved animals on the Conservation Carousel, which costs $3 per ride.
Location: 5333 Zoo Dr., Los Angeles
Cost: Free for children under 2, $16 for kids 2-12, $21 for adults
Kidspace Children's Museum
The Kidspace Children's Museum is a family-friendly spot with exhibits for children of all ages. They have monthly classes and workshops in their Early Learner Program that are geared specifically toward toddlers. These classes allow young ones to work on motor skills, socialization and hands-on learning.
Kidspace also boasts some adventurous outdoor spaces that allow toddlers to learn and explore the natural world with their senses. Play Facilitators are always close by to supervise and facilitate learning.
Your toddler can ride the Trike Track on any of the Kidspace tricycles, splash around in the water play area and experience the Kirby's Kids Corner exhibit, which is full of colorful structures and engaging activities specifically for infants and toddlers. Free play is an excellent way to develop your child's imagination and intelligence, and Kirby's Kids Corner is meant to encourage self-discovery and problem-solving skills for kids 4 and younger.
Location: 480 North Arroyo Blvd., Pasadena
Cost: $14
Santa Monica Pier
The iconic Santa Monica Pier is over a century old and sits right on the Pacific Ocean. It's full of shops and attractions that are sure to keep you and your little one entertained for hours. Plus, the pier offers some great dining experiences for you and your toddler to enjoy.
While you're there, take a spin around the historic carousel. Before you leave, be sure to stop by the Santa Monica Pier Aquarium, which has more than 100 local species on display, plus hands-on activities and daily educational programs.
Location: Pier at 200 Santa Monica Pier, Santa Monica; Aquarium at 1600 Ocean Front Walk, Santa Monica
Cost: Carousel tickets $1 for children, $2 for adults; aquarium free for kids, $5 for adults
Disneyland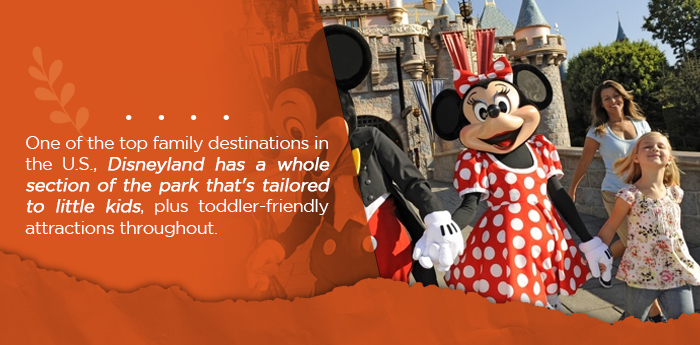 Introduce your toddler to the Happiest Place on Earth! One of the top family destinations in the U.S., Disneyland has a whole section of the park that's tailored to little kids, plus toddler-friendly attractions throughout. Best of all, your child may also run into many of their favorite Disney characters.
As far as rides go, your little one can enjoy Dumbo the Flying Elephant, King Arthur's Carousel and It's a Small World, to name a few. Plus, you can relax and cool down at one of several indoor shows, including the Enchanted Tiki Room. And be sure to hop on the Disneyland Railroad if you want an easy way to rest and explore the park.
Location: 1313 Disneyland Dr., Anaheim
Cost: Free for kids 3 and under, adult prices vary by date starting at $104
Cabrillo Marine Aquarium
Nestled adjacent to the Port of Los Angeles and Cabrillo Beach Coastal Park, Cabrillo Marine Aquarium is home to hundreds of species native to Southern California and has an exhibit hall that showcases animals from its three main ecosystems — rocky shores, sand and mud and open ocean. Your toddler can explore the live tanks and get their hands wet at the Tidepool Touch Tank.
Last, visit the Exploration Center, which features hands-on exhibits that will engage all five of your toddler's senses. A crawl-in aquarium will surround your little one with a tunnel teeming with sea life, while a mud exhibit will show them the world through the eyes of a worm while they crawl through a squishy tunnel. Plus, the Discovery Center has an art corner where they can create finger puppets, mobiles and other crafts to take home.
Location: 3720 Stephen M White Dr., San Pedro
Cost: $1 for children, $5 for adults
Cayton Children's Museum
Geared specifically toward children ages 0 to 8, the Cayton Children's Museum, formerly known as the Zimmer Children's Museum, is undergoing a series of renovations and will be reopened in Santa Monica in June 2019. The new space will feature 21,000 square feet of hands-on, discovery-based play, immersive exhibits and arts and educational programming for children and families. The new exhibits will include a full-size helicopter, fire truck and veterinary clinic.
Location: 395 Santa Monica Pl. Suite 374, Santa Monica
Cost: TBA
Beaches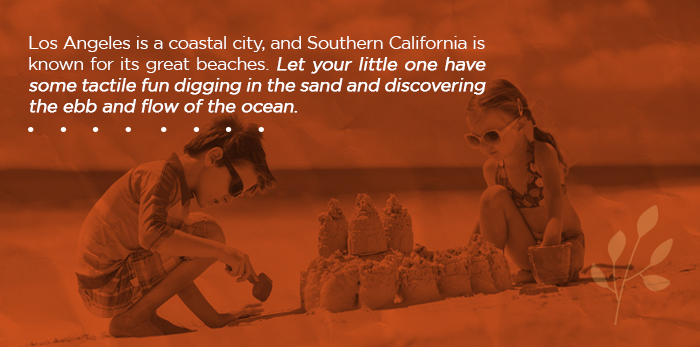 Los Angeles is a coastal city, and Southern California is known for its great beaches. Let your little one have some tactile fun digging in the sand and discovering the ebb and flow of the ocean.
Be sure to bring towels, hats and plenty of sunscreen! Here's a list of a few of our favorite beach spots around Los Angeles. All beaches on our list have restrooms, and though the sand and surf are typically free, the parking is not.
Zuma Beach, Malibu: Zuma is a popular beach for Malibu locals, plus you can usually spot a few surfers, body surfers and boogie boarders.
Santa Monica Beach, Santa Monica: Located just north of the Santa Monica Pier, this beach is among the most popular ones in LA. Stretching for two miles, it offers plenty of space to stretch out, relax and play.
Dockweiler State Beach, Playa del Rey: This wide, sandy beach sits right at the end of Los Angeles International Airport's runways, so you'll be sure to catch a plane or two landing, which will be an added bonus for your little one. Just be warned — planes are loud!
Seaside Lagoon, Redondo Beach: This surf-free saltwater lagoon offers lifeguard supervision, a snack bar and a grassy play area. Open during the summer months, it's a great way to cool off and enjoy the sun. You'll have to pay an entrance fee of $6, but little ones under 2 get in free.
Bay Shore Beach, Long Beach: Bay Shore Beach is a clean and safe area without any surf, making it ideal for toddlers. This beach is typically less crowded than other popular options in the area, so it's great if you're looking for a little solitude.
Parks
Sunny Los Angeles has parks and open spaces all over the city where your toddler can play, roam and explore for free all year long. Even on hot summer days, you can find a patch of shade in the grass or frolic through a fountain to cool down. Some of the city's parks are more toddler-friendly than others, so we've compiled a list of a few that we suggest visiting with your toddler to enjoy the Southern California climate any time of year:
Botanical Gardens at Huntington Library: You might not think of a library as a good place for a park, but Huntington does it right. With over 120 acres on site, you and your kids can explore a multitude of gardens, including desert landscapes, a Japanese garden and a Chinese garden. The Helen and Peter Bing Children's Garden is tailored to little ones as young as 2, where they can play in water, wander through a fog grotto, crawl through a prism tunnel and dance around a circle rainbow room. Location: 1151 Oxford Rd., San Marino
Grand Park: Located right in the heart of downtown Los Angeles, Grand Park is a 12-acre oasis. It includes interactive splash fountains, lots of green space and drought-tolerant landscaping, and your toddler will be mesmerized by the bright-pink tables and benches. Plus, the forest-inspired playground — featuring mini rolling hills and a tree fort slide — looks like it was plucked right out of a cartoon. Location: 227 N. Spring St., Los Angeles
Tongva Park: Once a parking lot, Tongva Park opened in 2013 as a beautiful outdoor space with observation decks, meandering walkways, extensive lawns, rolling hills and plenty of shady trees. On hot days, take your toddler to the splash pad and playground, located in the southeast corner of the park. Stationed just a block from the pier, Tongva Park has some beautiful water features that will wow your little one, plus a minimalist steel sculpture walkway that parents will appreciate. Location: 1615 Ocean Ave., Santa Monica
Hancock Park: Located adjacent to Los Angeles' famous La Brea tar pits, your child will be mesmerized by the gas bubbles that continually emanate from the lake of tar that's the main feature of the park. The park is free to explore and has many memorable attractions, including a sculpture of a mastodon sinking into a pit. Check out the ongoing archaeological excavation project and the Pleistocene Garden, which displays fossils that have been removed from the tar pits over the years. Location: 5801 Wilshire Blvd., Los Angeles
Tips for Enjoying Los Angeles With Your Toddler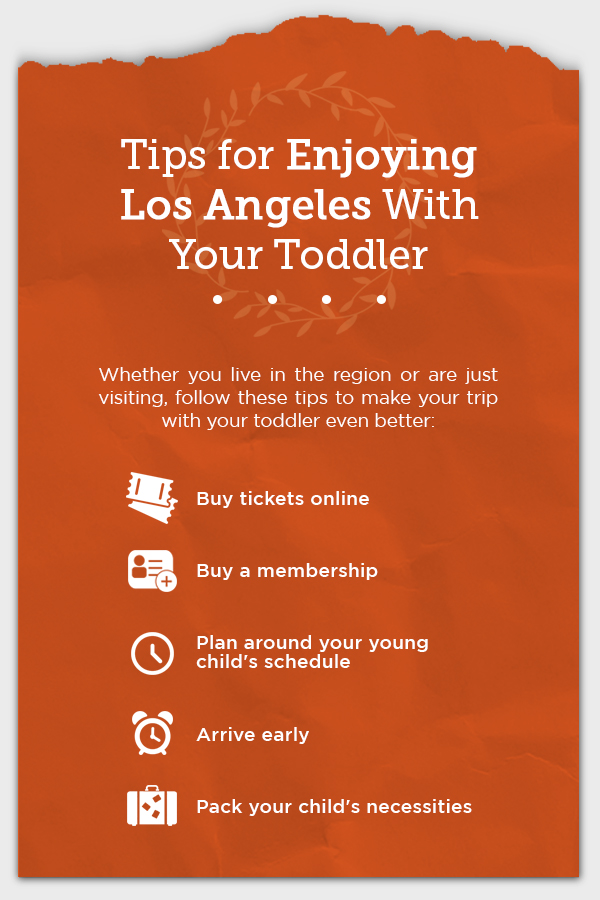 Enjoying a fun-filled day in the city with your toddler is made even more enjoyable — and more affordable — with a bit of prior planning. Whether you live in the region or are just visiting, follow these tips to make your trip with your toddler even better:
Buy tickets online: Many Los Angeles area attractions offer ticket discounts if you purchase tickets online in advance. Doing so will also enable you to skip the long ticket lines, ensuring your toddler is happy and not worn out before you even enter the building.
Buy a membership: If you live in Los Angeles, consider purchasing a membership to your favorite toddler spots, which will allow you to save money in the long run. And you won't feel like you wasted your money if your little one gets tired out after only an hour or two.
Plan around your young child's schedule: Keeping your child's routine will help you both enjoy the day and avoid public meltdowns. We all know it doesn't take much for a toddler to go from fun in the sun to temper tantrum. Be sure to follow your child's regular meal and nap schedule to ensure they're fed and fueled.
Arrive early: Toddlers are typically early-risers, so follow their natural schedule and arrive at area attractions early. You can also avoid crowds this way, making it easier to navigate, as most places get busier as the day progresses. Also, getting out early means you can seek the refuge of air conditioning for afternoon nap time and avoid the hottest parts of the day in the summer.
Pack your child's necessities: It's best to pack light when you're exploring a big city like Los Angeles with your toddler in tow, but be sure to bring the essentials. Pack a snack, hand sanitizer, wipes, diapers, water, band-aids and any other essentials. If you're planning on playing in a park splash pad, considering bringing a change of clothes.
Los Angeles is brimming with family-friendly activities to keep your little ones learning, active and entertained. Still, having a list handy is a great way to ensure your au pair never runs out of things to do with your toddler when you're busy with other responsibilities — no matter the weather or time of year. Contact EurAupair today for more information on finding the perfect au pair for your family.