Edna Imbachi Guaca - Au Pair of the Year 2020
Au Pair of the Year 2020 – Edna Imbachi Guaca from Colombia
As every year, EurAupair proudly announces the winner of the Au Pair of the Year contest.
Congratulations to Edna! Read her essay below and take a look at her video here.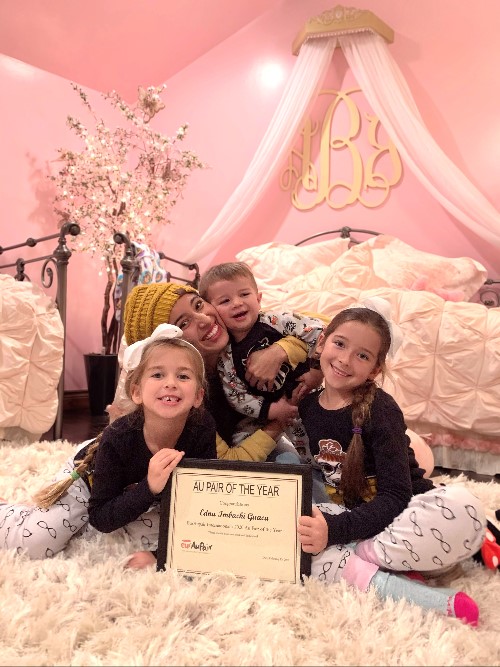 "My heart is so full of love and excitement to be nominated for the Au Pair of the Year! What an honor! My host mom, Zaklina, showed me the email she wrote to nominate me and I was in tears crying as I felt the love in her words and her appreciation of having me in their life and the feeling is mutual! I'm full of joy and emotions writing you this message as it feels amazing to be recognized for the passion I have as an au pair.
The Bailey family has become my family and it is such an honor and blessing not only to be nominated by my loving host family but to also have the opportunity to be in the program! I am so grateful for the EurAupair company for giving me this chance to participate in an incredible program and adventure and I would recommend it to all the young ladies in the world who wish to experience culture, opportunity, education and personal growth. It been the best experience of my life!!
Choosing to enter into this international EurAupair experience was a journey. I prayed every night to find a family who I can love and enjoy sweet children that would love me as much as I can love them. My host family, has been a dream come true as they are so loving, kind, fun, generous and feel like family to me. They have welcomed me with so much love and excitement as though I am one of their family members as they keep telling me I am. I respect them and love them so much and I can't say enough how lucky I am to be with their family!

Like most au pairs, I was full of emotions entering in the United States and I truly feel my expectations have been blown away. To have the courage to start a new life in the United States with all new beginnings is exciting but also unknown. Becoming an au pair was a decision my mom and I prayed about for a month and has been an answered prayer as I couldn't imagine to have as much positive impact experience as I have been blessed with.
Growing up as an only child, raised on the farm by a single mom, has been a struggle my whole life. I'm a big dreamer who lives in a small humble town in Colombia raised by my beautiful mother who worked so hard and always encourages me to take risk and go for your dreams. It's not where you come from but where you're going that matters most! My mom is my hero and I thank her daily for inspiring me to go for this program as it's been an experience I will never forget!
My host family has been so amazing, compassionate, welcoming, flexible and so uplifting. They are such a fun happy house and live and start each day with so much gratitude and passion for life. I have learned so much as a young woman from my host parents; I can't describe how grateful I am. My host mom, Zaklina, has become like a mentor for me. She has been so kind and compassionate and treats me with love, respect and appreciation. I feel so comfortable around her as a mom and as a friend! It's a pleasure to see how hard my host Mom, Zaklina, and host dad, Steve, work as it has demonstrated strong work ethic for me. As long as the hours are that they work, they always show their kids energy and excitement when they get home. They have always been available for me to talk to when I needed them and have helped me learn and grow so much in this experience. This family likes to play music and dance in the kitchen a lot, I've never seen anything like it. It's the sweetest thing to witness—like in a movie. My host parents make every day full of surprises for their kids, they enjoy excursions weekly and make a New memory daily with new experiences. I learned a new term they taught me: bucket list.
My heart fell in love with the family when I learned that 3 out of 4 of the children's grandparents are in heaven and the last grandparent is not doing well. When my host mom's mother passed away, they decided to enter into the Au Pair program 4 years ago and to learn I am the first au Pair they nominated is such a compliment.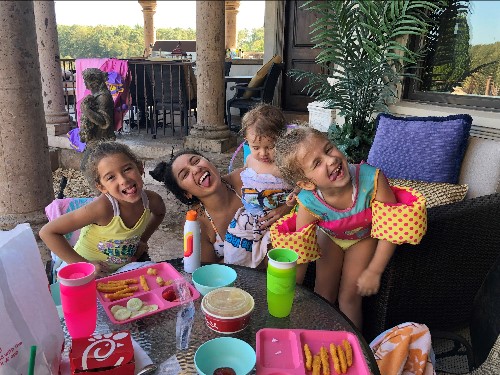 Zaklina and Steve work very hard to provide love and memorable experiences for their kids since the children's grandparents no longer can. They have taught me to enjoy every moment in life and live with no regrets. My host mom tells me that most people in life don't regret what they did but what they didn't do. It's so inspiring how they live life to the fullest with adventure and I admire all the experiences they have blessed me to be a part of. Not only do they like to surprise their kids, they like to surprise their au pairs too. It's been a dream to have the ability to travel and see new places. Thanks to my family and this program, I have experienced Disney for the first time today while on this month-long vacation with my host family which was a complete surprise and I only heard about it a couple of days ago. I also just learned today that we have more vacations this year including Hawaii in May. This has been a dream come true! If it wasn't for this au pair opportunity, I can't imagine ever having this experience in my life! The best part is that I had no idea I would get to travel this much as the family kept it a secret and allowed me to demonstrate my work ethic and focus on my job with the kids while knowing it would take my experience to a whole new level of excitement! It wasn't until a couple of weeks ago I found out we are going on our trip to Florida! What a blessing! Before this experience, I have never had the ability to travel and my host family has opened my eyes to the world and words can't explain how much that means to me! I can't help but cry because I am so grateful!
This experience as an au pair will always remain in my heart. Having the opportunity to share with these kiddos is absolutely beautiful. Being an only child, I didn't have siblings in my life. I have always dreamed of having siblings and thanks to this program, I love my kids like my siblings and appreciate each of them as they are all different in their personalities and I have learned to understand them individually. I love all 3 kids in a different way for they are all so different. We have a sweetheart, a comedian and a leader in the family. The kids are so well behaved and disciplined, it's a pleasure to be with them!
I can't help but brag about our little sweetheart, Legend, who has my heart! He is a charming 1 year and 4 months, who, despite being the youngest, has taught me many things. He is sweet, kind, affectionate and I see him as the tenderness of the family. He is always exploring and looking for new adventures which keeps me on my toes chasing him around the house. He is full of curiosity and energy, wants to see everything he can get his hands on and keeps me in shape running after him! Alyssabella, or Bella as we say, is 5 years old. She is a super active, hilarious, affectionate and adorable girl who has stolen my heart with her madness. She always has something to say and a witty response to any situation. She brings comedy to the family and keeps us all laughing with her non-filtered thoughts. Taylor, the oldest daughter of the family at 6 years old, is a beautiful, super intelligent girl with so much passion for leading and helping her siblings. It's amazing how advanced the education is in the United States, Taylor is in grade 1 and amazingly reads and writes in cursive handwriting like a big girl. I am so proud of her and all the kids! All of my children are different and have different personalities. This has taught me many things, I have learned to understand and love them in different ways.
As a part of my au pair experience, I have to mention my counselor Rose who has been such a wonderful woman—always available if I need her. I appreciate all the time she takes to make our meeting times special and fun. We have enjoyed meetings at the lake, ice cream shops, golf cart rides, drinking coffee and talking about cultural experiences.
This is an amazing opportunity for ladies who want to have education in another country. It provides woman with a fun job, cultural experience, possible travel and a great education in a university or college to improve their level of English. This experience will teach the au pairs so much about themselves as they will learn the value of being independent and responsible.
I thank God, the au pair process, the Bailey family and all the people who have helped me to make this a successful and growing experience, I will cherish this opportunity forever. Thank you so much, God bless you!"
- Edna Imbachi Guaca